Welcome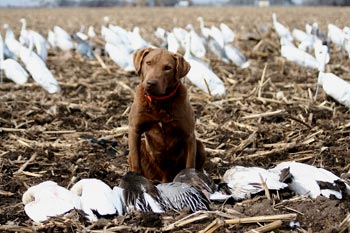 The Peru Hunt Club is Nebraska's premier waterfowl hunt club. We have been guiding waterfowl hunts for over 45 years, and can fulfill your hunting dreams. The owner and operator, Ed Welte, has been an avid waterfowl hunter for 34 years, and guides only waterfowl hunts. Waterfowl hunting is Ed's passion.
We specialize in spring snow goose hunting in Nebraska from our heated pit blinds. We use an extremely effective electronic calling system and over 1.800 decoys to put the geese in your face. Many of our decoys are floaters, and the birds respond well. Our clients took over a thousand birds last year. We have blinds overlooking flooded fields and in corn stubble. The padded seats and heat in our blinds make the hunt extremely comfortable. We are located just 30 miles from Mound City, Missouri, which is a federal reserve and holds 300,000 geese. 15 miles to the east of us lies Riverton, Iowa which holds another 300,000 birds. There is a huge power plant 5 miles north of our blinds which attracts thousands of geese during peak migration. Some days we will see and decoy thousands of geese in a single morning.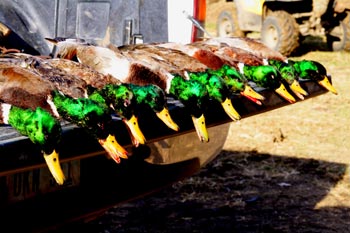 The Peru Hunt Club offers great shooting during the fall as well. We see large numbers of Canada Geese and a variety of ducks at our various blind locations along the Platte and Missouri River systems. We have blinds located near Lexington, Nebraska that offer great shooting during the fall. References are available upon request.